Fall Activities in Full Swing
Like clockwork, the flip of the calendar from August to September has launched us headlong into the fall planning cycle and a number of projects that will, hopefully, end up as full-fledged campaigns in the not so distant future.
While we're currently working on a number of different files for clients in all sectors, I'd like to highlight a few of the ones that allow us to showcase the functionality of some of the tools that we've been developing over the last couple of years.
All Provinces – Napa Auto Stores
We were contacted by one of our larger agency clients recently to assist in planning for a campaign for their client, the Napa chain of automotive parts stores across Canada. They were directed by their client to identify community newspaper options circulating within the 10km trade footprint around each of their stores - all 649 of them. In order for this campaign to be planned further the agency needed to overcome this rather large challenge that manifested very early in the process.
Using the raw Excel document that listed each Napa store by address and postal code, we were able to geo-target all AdWest community newspapers to stores according to the agency's planning objectives.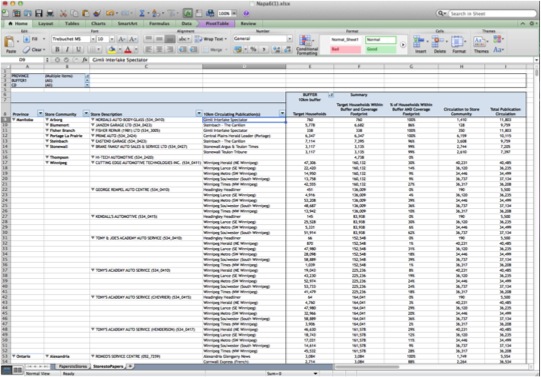 Recognizing the agency (based out of Montreal) would likely require and additional perspective on the data, we also included a series of maps like the one below to support our recommendations.
Alberta – Alberta Health Services
Via the Alberta Weekly Newspapers Association, the agency responsible for planning the Alberta Health Services account approached us for a breakdown of community newspaper circulation by applicable health zones. The campaign they were working on is zone specific and it is of paramount importance that each publication run the material pertinent to the zone(s) they circulate into. Material will be developed to accommodate the many different scenarios that could ultimately take place.
In this case, the challenge for the agency was to identify where the potential landmine of publications circulating into multiple health zones occurred, prior to launch.
Again, using our geo-targeting infrastructure, we were able to physically link each AWNA member publication according to the amount of circulation within each applicable health district. The data was then provided back to the agency in both tabular and map form so that their planning activities could evolve to the next stage.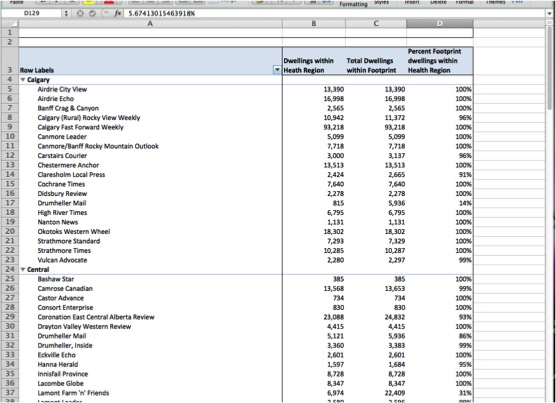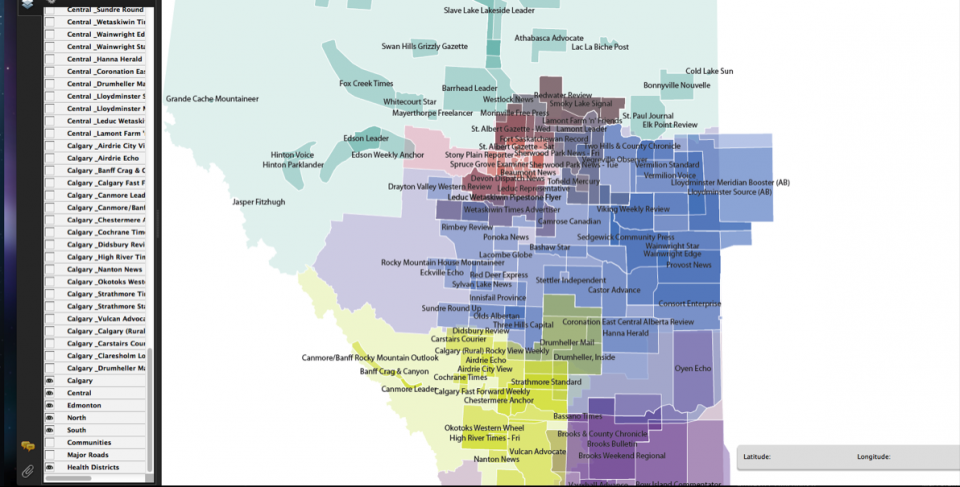 Saskatchewan – SK Ministry of Agriculture
The agency responsible for planning this key provincial government department is headquartered out of Calgary, AB. However, the media department is managed out of St. Louis, Missouri. To establish a Canadian presence on their planning team, the agency recently hired a planner to work out of the Calgary office. That planner was brought in from Halifax, NS.
What's the moral of the story? Always assume that the people responsible for managing advertising budgets have never set foot in your circulation area because chances are good, that's the case.
Planning activities for this account are in support of what will hopefully be a campaign promoting October as agriculture month in Saskatchewan. The agency was pitched on four campaign options based on their pre-determined 1/4p material run 1X in all members. It has since been determined that the cheapest of the proposed options ($24,000) exceeds their budget and to quote the planner, 'We need to shave some budget on the weeklies' for this campaign to get approval.
In the back and forth that has taken place this week it was determined that the agency will use a combination of physical coverage and readership analysis as well as a review of Special Supplement Opportunities to finalize their recommendation to the client.
Once again, this underscores how agencies are looking for 'innovative' ways to use our media and demonstrates why our approach to marketing it needs to be in lockstep.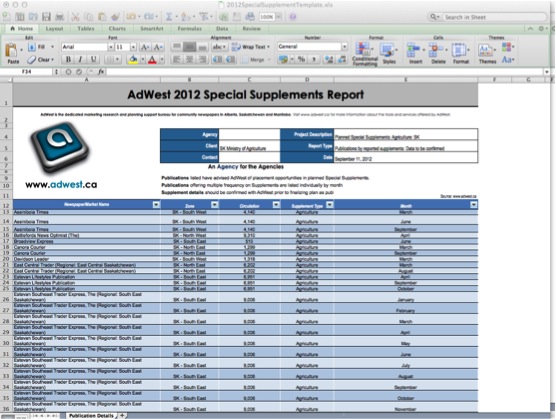 Manitoba – Manitoba Government Employees Union (MGEU)
The agency responsible for planning the MGEU account is based out of North Vancouver, BC. They approached us about providing assistance on a plan being considered for community newspapers with less than a couple hours turnaround.
The campaign itself was in support of union meetings for the Tech Professional Paramedical workers taking place in small rural communities throughout Manitoba. Most of them were unfamiliar to the agency.
The agency provided us with a list of the target communities and asked for a recommendation of titles best suited to the campaigns objectives.
We were able to use our newly unveiled online iMapper application to construct a map that helped to visualize support for our recommendation and the campaign launched the next week.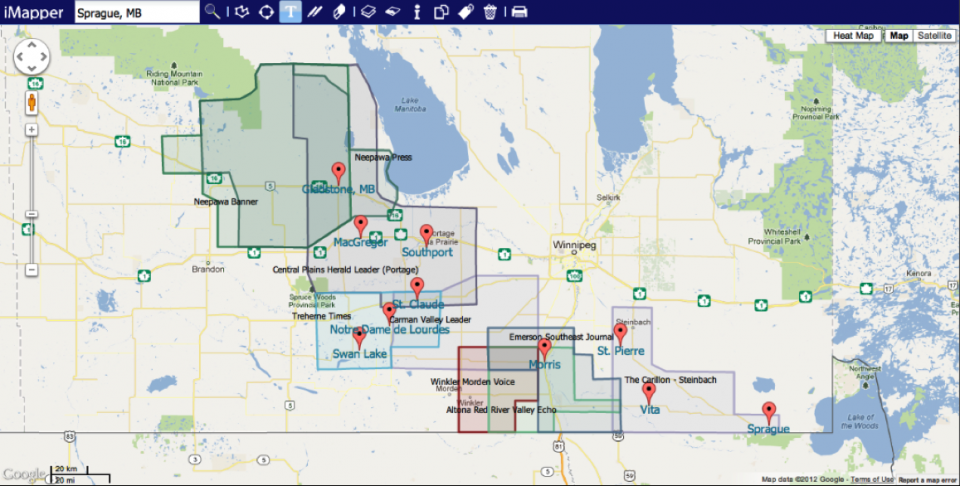 ---
Other Recent Client Activity
Agency for Shaw requiring quotes for Spring/Summer 2013 campaigns
Agency for CIBC requesting data, information to conduct media scans to evaluate Q1 with regard to branch openings
Loblaw requested information and quotes across the region for their brands Extra Foods and No Frills
Agency for Servus Credit Union forwarded materials for Fall campaign
Agency for Maple Leaf Halal required ethnographic data and planning support for potential ROP, Insert campaigns
Agency for RBC has ongoing requests for strategic mapping and costings for Wave 2 of Extended Hours
Monsanto DeKalb is planning a fall Testimonial campaign that was slated to launch October 1 but has been pushed back a week due to the early harvest. It's a co-op initiative that will ultimately revolve around participating growers, targeting publications in their areas.
Worked with the agency planning for Lindt retail boutiques in specific markets across all provinces.
Working with the new AOR of Mark's on upcoming fall FSI campaigns.
The agency for Dow AgroSciences has been directed to conduct a competitor analysis in key community markets. We're assisting them where possible in this project.
The same agency is working on a plan for their client, Bunge, that would see a Fall 2012 campaign run according to a similar schedule that ran in the Fall of 2011.
---
Re-Launched Planning Portal: AdWest.ca

Last month, AdWest re-launched it's website and online planning portal, www.adwest.ca. Development on the new site has been occurring throughout the summer and was necessary in order to accommodate the growing number of devices being used to access the site.
The re-launch also gave us an opportunity to do a complete overhaul on the site, improve its navigability while at the same time give us the ability to use some of the high traffic areas of the site to strategically point visitors to the things WE want them to see.
The new site also includes a number of new tools including an interactive mapping application that allows users to physically locate addresses, postal codes, communities etc. on a map and then add layers such as target radii, StatsCan data and newspaper coverage areas to it. We're extremely excited about the launch of this particular application because it gives planners the ability to visualize the connection between their target and the media's audience; critical in helping them achieve accountability to their clients for their media buying decisions.
With the website generating on average 2,500 unique visits per month it has become an integral component to our overall marketing effort and a valuable resource for media planners and advertisers. Please take a few minutes to familiarize yourself with the new site as many of the tools and functions have been designed to help 'sell' the media on various levels including Main Street.
We will be holding a special launch event for agencies in Toronto on Wednesday, October 3rd where we hope to host between 125-150 media planners and buyers.
---
Help Us Market You Effectively

Supplements, Features and Opportunities
As we head into the fall planning season and prepare to unleash our new website on the media planning community, now would be a perfect time to review your planned Special Supplements, Regular Features and Special Advertising Opportunities for 2013. Advertising Opportunities in community media are maintained in our database and published in Real Time via the Planning Essentials section of our website. These sections on our site are routinely among the top 10 areas visited.
Each newspaper has direct access to this data and the ability to manage opportunities as necessary using the Direct Update Portal. Instructions on how to use the portal to keep your information current can be found here.
Creative Media Uses
Do you have examples of creative ad campaigns or special supplements that we can use to promote effective use of the medium on our site?
The new AdWest website has been designed to PROMINENTLY promote how community newspapers can be used as part of unique or targeted advertising campaigns.
Our collection of examples is still very thin in a number of areas:
Special Supplements (Agriculture, Finance, Home Improvement etc.)
Flex Form ad material
Island Half Positions
Earlugs and Banners
Feature sponsorships
If you have any examples of how creative media has been effectively produced by your publication we'd appreciate you sharing them with us so that we can market them as an effective use of community media to the national ad buying community. Please send your examples to us with a brief explanation of it to marketing@adwest.ca