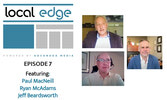 Unveil the influence of small communities on Canadian advertising in Episode 7 of Local Edge! Shawna Randolph, the host, engages in a dialogue with Paul MacNeill, Publisher of PEI Canada, as he explores how the younger generation is recognizing the importance of printed literature.
Gain unique insights from Ryan McAdams, Group Publisher of Alberta Newspaper Group LP. He delves into the proactive approaches adopted by local advertisers, highlighting the pivotal role of supporting community media. Additionally, Jeff Beardworth, CEO of AdCanada Media Inc., shares his viewpoint on dissecting market intricacies to assess the effectiveness of digital advertising outreach. Don't miss out on this invaluable discussion on Episode 7 of Local Edge.
Welcome to LOCAL EDGE - A place for better understanding and connecting with small communities all across the country. Here we explore the value of these markets to advertisers, agencies, communities, and more. We bring you the latest news, insights and trends from the world of local advertising and marketing.
For more information, please visit: www.adcanadamedia.ca
This series is proudly produced by the team at Road 55. Located in Edmonton, Alberta. Road 55 creates content that connects! For more information, please visit: www.road55.ca