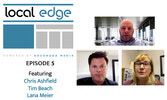 Discover the power of small communities in Canadian advertising on Local Edge Episode 5! Host Shawna Randolph explores how local news and community involvement shape the advertising industry. Chris Ashfield, the publisher of Grasslands News Group, joins the show from Melville, Saskatchewan. As a fourth-generation newspaper publisher, Chris discusses the history of his company, which owns and publishes five newspapers in southeast and east central Saskatchewan. He emphasizes the significance of local news and community involvement and shares the challenges faced by local media in the digital age.
Tim Heath, the Media Lead at Blue Noise Studio in Toronto, discusses his experience transitioning from larger companies to a smaller market. Tim also highlights the importance of strategic advertising placement and the impact of advertising within trusted local media environments.
Lana Meir, Owner, Interlake Graphics, talks about continually adapting and changing to meet the needs of their advertisers and their readers. Don't miss this insightful conversation on Local Edge Episode 5.
Welcome to LOCAL EDGE - A place for better understanding and connecting with small communities all across the country. Here we explore the value of these markets to advertisers, agencies, communities, and more. We bring you the latest news, insights and trends from the world of local advertising and marketing.

For more information, please visit: www.adcanadamedia.ca

This series is proudly produced by the team at Road 55. Located in Edmonton, Alberta.
Road 55 creates content that connects!
For more information, please visit: www.road55.ca