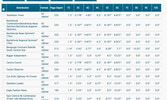 Publication Specs
All rates and specs are updated in Real Time making them the most accurate collection available online.
Using our interactive tools helps you find pertinent information on community newspapers across the prairies and northern Canada quickly and easily. This data is monitored daily and is guaranteed to be your most up-to-date source for community newspaper information. Use the export functionality to help keep your own databases current.
Download publication Detail Sheets › for a one-page profile of each title and the market it serves.
Mechanical Specifications


Column by column inch widths and page depths
Spreadsheet and PDF export capability
Multi-coverage Mapping Functionality





Standardized dimensions in inches
Applicable columns and lines
Spreadsheet and PDF export capability
Multi-coverage Mapping





Snapshot of relevant coverage data
Links to RealTime mini-media kits
Spreadsheet and PDF export capability
Multi-coverage Mapping